Slow file transfer from Windows Explorer view to another Windows Explorer view of SharePoint.
Today I was replacing certain SharePoint documents for one of the projects we are working on. I noticed that the transfer of the document from Windows Explorer View to Windows Explorer view was very slow!! I mean 16,1 kb per Second slow!!!.
Investigating this problem I found that IE is configured to "Automatically detect settings":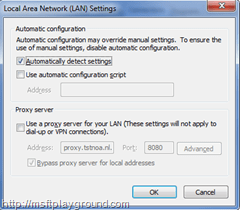 This was causing the WebDAV connection to work very slow. Disabling this obtain automatically made my transfer much faster. You can find this option by doing the following:
In IE open the tools menu and click on Internet options.
Click on the connections tab.
Click on the Lan settings button.
Uncheck the Checkbox and press 'Ok' to save the settings.